Back in in the age of steam and the Intel 80286, after graduating MIT Katherine set off with friends on their bicycles to ride from Boston to Santa Barbara. She left behind with me two plush creatures (Binkley & Gunther) to help me track her progress.
After Katherine's ride, Binkley & Gunter joined her at UCSB; the staff shortage in Boston was corrected that Christmas by the arrival of Snuffles, the Plump Plush Platinum Programming Polar Bear (or Snuffles P. Bear for short). Snuffles was a happy resident of my (ever bigger) CRT monitors for ten years.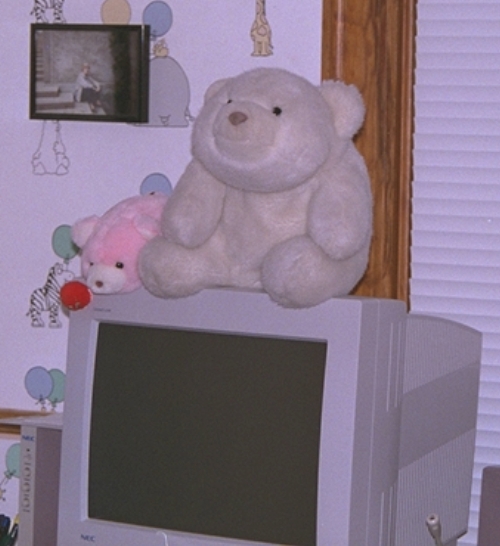 The Tribble,
Snuffles, and an assistant on duty ~ 1997
Alas, in ~2000 we moved to LCD monitors, and her position was literally eliminated (she is a plump bear); Room was made for her elsewhere in my office, but no creature bigger than Thomas Tech Bear could balance on the thin LCD monitors since then.
Until this month, that is. I discovered that one can buy stands for LCD monitors. Thus, she able to reclaim her time-honored position, joined by a few senior friends.
The Tribble, Seymour Crayola,Thomas Techer Bear, and Snuffles P. Bear
(click for a larger image)

The 2023 monitor creatures, briefly:
The Tribble (1983): Since he arrived during my mainframe era, the Tribble has graced every primary monitor I've used; that has included two mainframe terminals, ~ four PC CRT's, and ~ five PC LCD monitors.
Seymour Crayola (2000): Our Patron Bear of High-Performance Computing; he missed the 64-node Thinking Machines CM-5 I used in the early 1990s (upper right in the photograph), but more recently he constantly wanted to use my Google credentials to borrow a datacenter or three.
Thomas Techer Bear (1978): The Dean of our Plush Faculty.
Snuffles P. Bear (1990): Our Patron Bear of Chocolate (those are Thin Mints at her feet), and the Kendra Electronics Wonderworks Directbear of Marketing.
In Her Own Words
I just program for Drew because Binkley Bunny (who is as snowy white as I am) and Gunther Bear used to help Drew program from the top of kendra's monitor. They went west in September [1990] with Mom so that Mom and Binkley could work on their PhDs. That made the Wonderworks understaffed, so at Christmas [1990] Mom asked me to live with Drew.


— Snuffles P. Bear
My mom is very proud that I'm a computer literate bear. She also thinks Drew has gone off the deep end, although she doesn't mind.


— Snuffles P. Bear